NextGen Office Patient Portal
NextGen Office Integrated EHR Patient Portal
Your Healthfile Patient Portal helps facilitate workflow and allows your patients control of their own care.
With "YourHealthFile" Patient Portal, your patients have private, secure access to their electronic Personal Health Record (PHR). Our online patient portal is completely integrated with NextGen Office EHR.
Optimizing the four main mechanisms of a patient portal, and you'll find time to see more patients with fewer costs and a smaller staff.
Administrative – appointments, pre-registration and scheduling
The ability for patients to access their physicians' schedule availability, via the patient portal, and request appointments online eliminates the time your staff spends fielding requests via back-and-forth phone calls.
Patients enter their own data, eliminating data entry duties on your end, delayed appointments and unnecessary errors.
Clinical – lab results, clinical summaries and Rx renewals
Medication refill requests cuts down on phone calls and automates the process.

Immunizations module aligns with CDC Child and Adult Immunization Records; Patients and parents can print their own copies. Saves staff time, ink and helping to eradicate office "bottlenecks."
Billing – online statements and "ask a biller" payment questions
Online bill pay replaces paper statements; payments are received faster and cost less to process – reducing postage, paper use and printing.
Detailed statement view displays the same level of detail as paper statements.
Secure Messaging – compliant with the Meaningful Use Standards
Use our Patient Portal to communicate lab results to your patients. Your comments about theresults are easily communicated to your patient.
Time spent messaging is less than time spent processing and routing phone calls.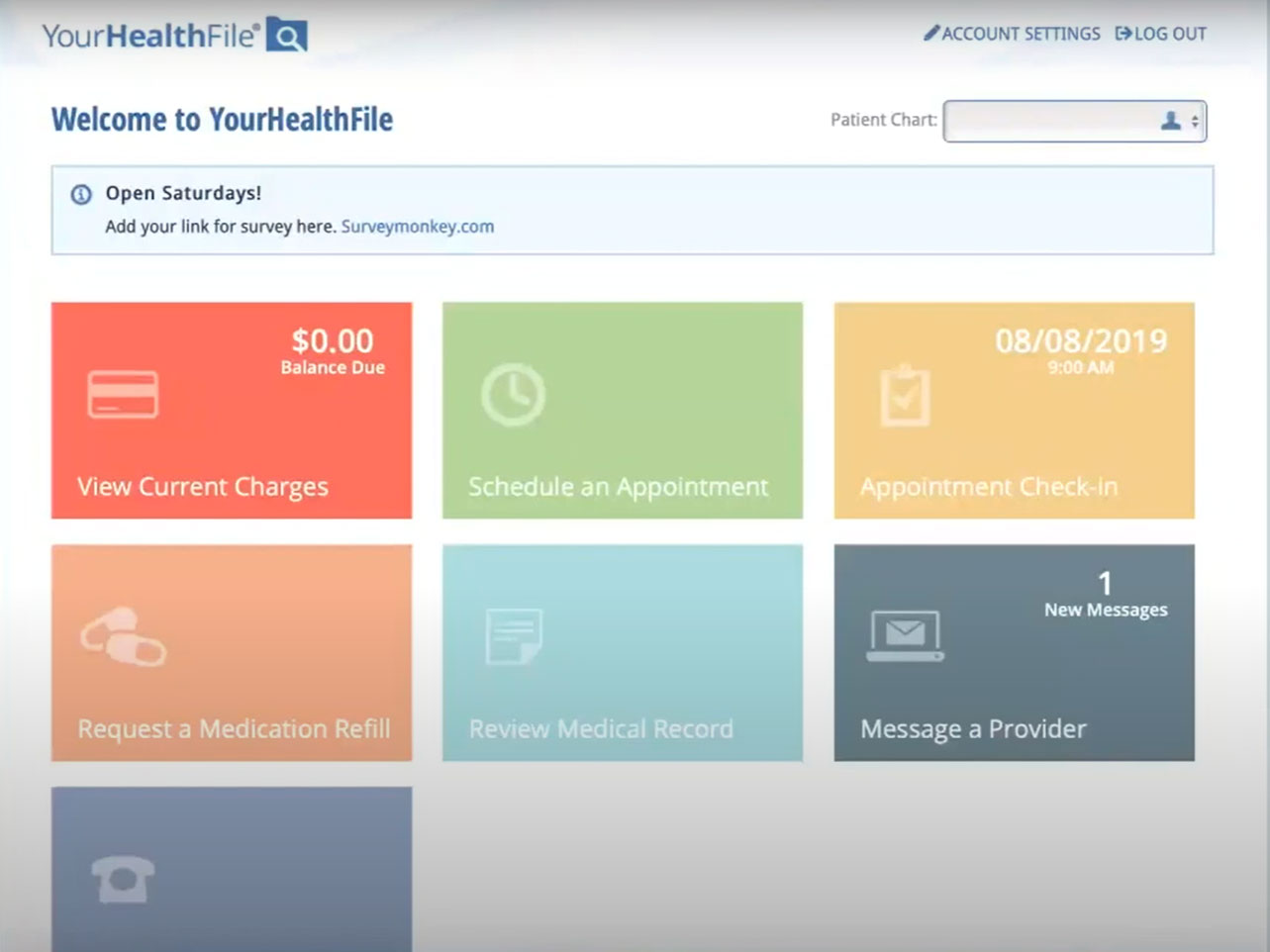 Premium YourHealthFile® Patient Portal (includes telemedicine)
This premium patient portal includes enhanced modules that allow patients to update their medical information, schedule and request appointments, get convenient e-visits, and make online payments. This offering is in addition to the standard patient portal which meets MIPS requirements.
Benefits
Offer telemedicine visits and increase patient satisfaction.
Cobrand with your practice's logo and attract patients by imbedding portal login into your website.
Notify patients of outstanding bills and provide easy online payments (requires merchant services)
Offer online appointment requests or scheduling
Create customized announcements (e.g., "Get Your Flu Shots Here")
Provide online medication-refill requests
Offer online intake/information forms
Available in 75 languages